IntelliNode™ Interface Module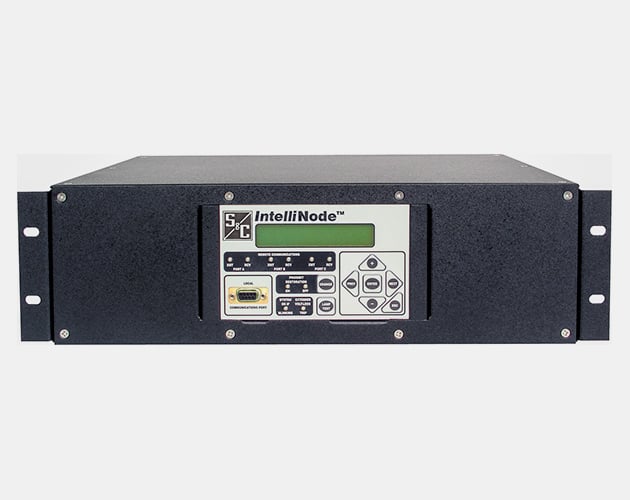 IntelliNode™ Interface Module
Featuring IntelliTeam® SG Automatic Restoration System
Using peer-to-peer communication with distributed intelligence, S&C's IntelliTeam SG Automatic Restoration System tracks system conditions on your overhead and underground distribution system, and quickly initiates service restoration in response to an outage or fault
Back to Top
IntelliNode Interface Module
IntelliNode Interface Module enables intelligent electronic devices not of S&C manufacture to function as team members in an IntelliTeam SG Automatic Restoration System. The module does not add new features to its host IED; it enables the host device to communicate with other team members and implement IntelliTeam SG restoration decisions. Fault interrupting and protective functions remain under control of the host IED.
Panel-mounted version fits in most existing IED enclosures
Rack-mounted version installs in standard 19-inch relay racks
Uses DNP 3.0 communication for SCADA
Faceplate communication port provides easy computer connection
Prohibit Restoration "enabled/disabled" switch on the faceplate
Data logging for analysis of team operation
Optional IntelliLink® Remote Setup Software provides device status remotely
The IntelliNode Interface Module enables a substation breaker to operate as part of an IntelliTeam SG Automatic Restoration System, helping to further minimize the impact of an outage. It interfaces with the microprocessor relay of the breaker and provides full team-member logic and communication capabilities to the fault-interrupting decisions made by the relay.
Upon loss of substation bus voltage, the module allows IntelliTeam SG logic to restore power to the line segment between the substation breaker and the first switching/fault-interrupting device. The IntelliNode Interface Module can allow an additional reclosing attempt, if desired, and still restore all unfaulted line sections.
The IntelliNode Interface Module exchanges information with other team members and polls the relay for status and analog data. Upon the occurrence of a fault or loss of source, the module provides an interface to — and operates — the breaker to restore as many feeder segments as possible.
The IntelliNode Interface Module can also be used with a wide array of new and existing DNP 3.0-compatible intelligent electronic devices applied with conventional reclosers and switching devices of other manufacture, including:
SEL 351A, 351-R1, 351-R2, and 351-S Overcurrent Relays
SEL 651 and 651RA Recloser Controls
SEL 751 and 751A Feeder Protection Relays
Nu-Lec CAPM-5 Recloser Controls
Cooper Form 6 Recloser Controls
GE F60 Feeder Management Relays
ABB Ref 550 Protection Relays
ABB DPU2000R Relay (after 2005)


Other intelligent electronic devices may be suitable as well. Contact your local S&C Sales Office for details.
The IntelliNode Interface Module is available in a rack-mounted version (19" wide, 3 spaces high) as well as a panel-mounted version that fits most relay enclosures. The module communicates with the relay through a DB-9 connector. Data, including alarm and team status, is shown on a two-line display. Tactile-feedback membrane switches allow easy scrolling through IntelliTeam SG information.
Programming, set points, and logged data are stored in permanent, non-volatile memory. The crystal-controlled clock accurately time stamps data. The Universal Interface Module includes ports for team communication, communication with the relay, plus a DB-9 faceplate connector for local monitoring and configuration. Just connect your personal computer and change set points or upload logged data using user-friendly IntelliLink Setup Software.